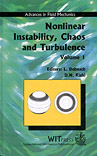 Nonlinear Instability, Chaos and Turbulence
Edited By: L. Debnath, University of Texas-Pan American, USA and D.N. RIAHI, 216b Talbot Laboratory, USA
$317.00 (free shipping)
Advances in Fluid Mechanics
"...the book presents the recent knowledge on nonlinear instability, chaos and turbulence, together with open questions and unsolved problems. Theoreticians, experimentalists and practitioners are provided with a critical, although balanced, appraisal of modern concepts in this rapidly developing and very difficult area. Ideas and notions originating from a wide range of individuals and "schools" of thought are discussed and evaluated. This book is a valuable source of information for postgraduates, and a reference work for researchers in the physical sciences, engineering and earth sciences, particularly material processing, geophysics, atmospheric science and oceanography."

PURE AND APPLIED GEOPHYSICS
Nonlinear instability plays a fundamental role in laminar flow evolution, its transition to chaotic motion and the subsequent turbulent flow state. The last fifty years have seen major advances in the mathematical theory of, and computational and experimental techniques for the study of nonlinear instability phenomena, chaos and turbulence, with many remarkable and unexpected results being discovered.

This collection of invited articles has been written by fluid dynamicists and applied mathematicians who have made significant contributions to the areas of nonlinear flow instabilities, chaotic motion and turbulence. Containing original research, research-expository and survey articles, it provides a digest of current developments, together with open questions and unsolved problems which are likely to determine fruitful directions for future advanced study and research.

Both thermal and shear flow systems are covered, while applications reviewed include aerodynamics and materials processing, geophysics, oceanography, atmospheric science and astrophysics.