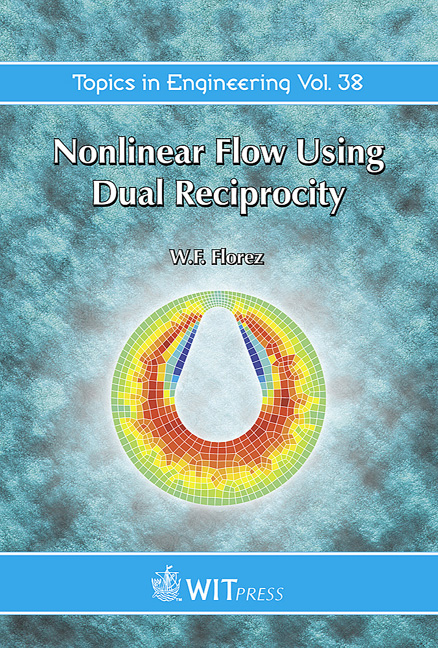 Nonlinear Flow using Dual Reciprocity
Authors: W.F. FLOREZ, Universidad Pontificia Bolivariana, Colombia
$128.00 (free shipping)
"...a valuable tool that should be present on the shelves of any beginner in the field. This reviewer also strongly recommends it as a basis for a specialized course on the subject."

APPLIED MECHANICS REVIEWS
This book introduces a boundary integral method based on domain partition for the solution of nonlinear fluid mechanics problems such as the Navier-Stokes equations and the momentum equations for non-Newtonian fluids. The author improves the Dual Reciprocity Method (DRM) by partitioning the domain into smaller sub-domains or domain elements, and then applying the DRM to each of these to obtain an expression for the velocity only in terms of boundary integrals.

Several numerical examples, including the driven cavity flow of a Newtonian fluid at different Reynolds numbers, the pressure driven flow and the Couette flow of non-Newtonian fluids, and the flow of polymers which are highly non-Newtonian inside mixers with complex geometry, are featured. The agreement between the numerical results and the analytical solutions in all the examples given, where available, is excellent.