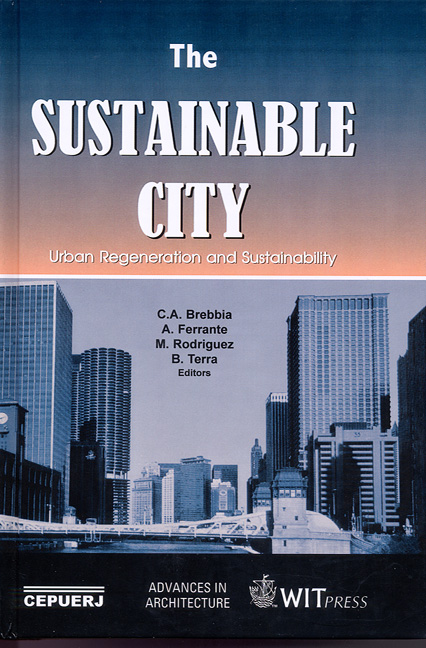 This book is currently not available from WITpress.
Notify when available
The Sustainable City
Urban Regeneration and Sustainability
Edited By: B.R. TERRA, Rio de Janeiro, Brazil, C.A. Brebbia, Wessex Institute of Technology, UK, A. FERRANTE, Milan, Italy and M. Rodriguez, Technical University of Madrid, Spain
$531.00 (free shipping)
WIT Transactions on Ecology and the Environment
In The Sustainable City academics, professionals and practitioners from many disciplines exchange ideas and identify best policies and practice for a viable urban environment. International in perspective, with authors from nearly twenty countries, the book successfully manages to provide a wide-ranging view of the problems facing modern cities and their solutions.

The papers included were originally presented at the First International Conference on Urban Regeneration and Sustainability. This took place in Rio de Janeiro, Brazil, a city which has provided the setting for many environmental initiatives of great importance for the rest of the world, and the case of Rio and other Brazilian cities is therefore presented in detail by national specialists.

Consisting of case studies, research papers and practitioners reports, the contributions are divided under the following headings: Strategy and Development; Environmental Management and Pollution; Land Use and Management; Transport Environment and Integration; Cultural Heritage and Architectural Issues; Planning, Development and Management; Restructuring and Renewal; The Community and the City; Public Safety and Security.