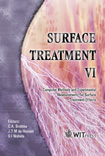 Surface Treatment VI
Computer Methods and Experimental Measurements for Surface Treatment Effects
Edited By: C.A. Brebbia, Wessex Institute of Technology, UK, J.T.M. de HOSSON, University of Groningen, The Netherlands and S.I. NISHIDA, Saga University, Japan
$307.00 (free shipping)
Computational and Experimental Methods
WIT Transactions on Engineering Sciences
This book contains edited versions of papers presented at the Sixth International Conference on Computer Methods and Experimental Measurements for Surface Treatment Effects.

Highlighting fundamental and applied concepts in this interdisciplinary field, the contributions focus on the interplay between applied physics, materials science and engineering, computational mechanics and mechanical engineering.

The papers featured are divided under the headings of surface coating, damage mechanics, residual stress effects, laser surface treatment and mechanical surface treatment, while special emphasis is given to the application of advanced theoretical and experimental approaches.