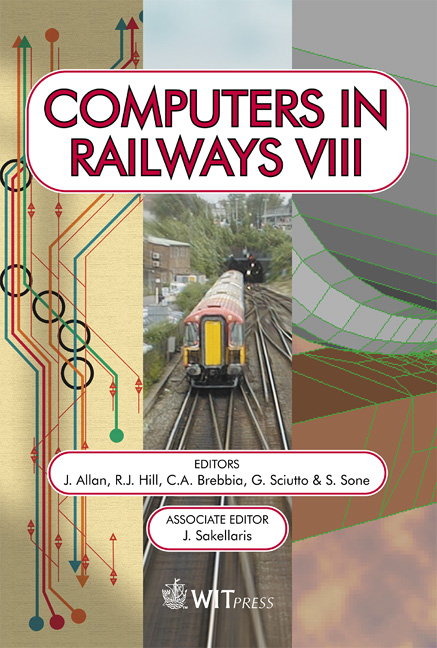 Computers in Railways VIII
Edited By: J. ALLAN, Brown & Root, United Kingdom, R.J. HILL, University of Bath, United Kingdom, C.A. Brebbia, Wessex Institute of Technology, United Kingdom, G. SCIUTTO, Universita degli Studi di Genova, Ital
$1034.00 (free shipping)
WIT Transactions on The Built Environment
This book contains most of the papers presented at the Eighth International Conference on Computer Aided Design, Manufacture and Operation in the Railway and Other Advanced Mass Transit Systems (COMPRAIL).

The COMPRAIL series has become the world forum for all major advances in this important field, and this latest conference volume highlights themes of great current interest including railway management, signal and control systems, design and planning of networks, infrastructure and equipment and many other topics.

Over 110 contributions are featured and these are divided into the following sections: Advanced Train Control Systems/ETCS; Automatic Train Control; Communications; Electromagnetic Compatibility; Infrastructure; Innovative Controls in High-Speed Transport Systems; Interlockings; Maglev and Linear Machines; Maintenance and Condition Monitoring; Multi-Train Simulators; Pantograph and Catenary Interaction; Passenger Interface; Planning; Power Supply and Traction Drives; Rail, Track and Bridges; Rail Wheel, Brake and Other Equipment; Safety; Strategy and Scheduling; Systems Engineering; Traffic Control; Train Location Systems; and Training, Decision Support and Human Factors. A special address focusing on the Modernization of Greek Railways is also included.