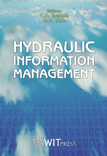 Hydraulic Information Management
Edited By: C.A. Brebbia, Wessex Institute of Technology, United Kingdom and W.R. BLAIN, Wessex Institute of Technology, United Kingdom
$421.00 (free shipping)
WIT Transactions on Ecology and the Environment
Presenting contributions from the Ninth International Conference on Hydraulic Information Management (HYDROSOFT), this book will be of interest to scientists in industry, research organizations, government and academia involved with the applications of software to hydraulic engineering and water resources.

The three main areas covered are groundwater flow, open channel flow and pressure flow, while water quality and decision support system issues are also explored.

Contents: Hydrodynamic Modelling; Dam Breaking and Flooding; Hydraulic Networks and Water Supply; Open Channel Flow; Coastal and Estuarial Engineering; Wave Propagation; Hydrology; Water Resources; Groundwater and Aquifer Modelling; Water Quality and Treatment; Hydraulic Software; Hydraulic Informatics; High Performance Software; Decision Support Systems; Real-Time Management and Risk Assessment; and Numerical Modelling.