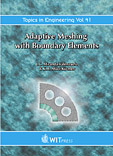 Adaptive Meshing with Boundary Elements
Authors: J.C. MIRANDA-VALENZUELA, , Mexico and K.H. MUCI-KUCHLER, University of Detroit-Mercy, USA
$262.00 (free shipping)
"...well written and very readable. Many chapters include introductory sections containing very concise and well-presented literature reviews that read like a chronological story of developments. These sections provide a useful perspective to the field.

...this reviewer would recommend Adaptive Meshing with Boundary Elements as an introduction to adaptive methods for the BEM, and one that is justified now that these techniques are maturing."

APPLIED MECHANICS REVIEWS
This book provides an introduction and review of adaptive meshing techniques in the Boundary Element Method (BEM). An overview of several alternatives is presented and some new proposals developed by the authors are thoroughly discussed. The first chapters consist of a brief summary of the mathematical and engineering background necessary to understand most topics, while the following chapters cover a range of problems and techniques in detail.