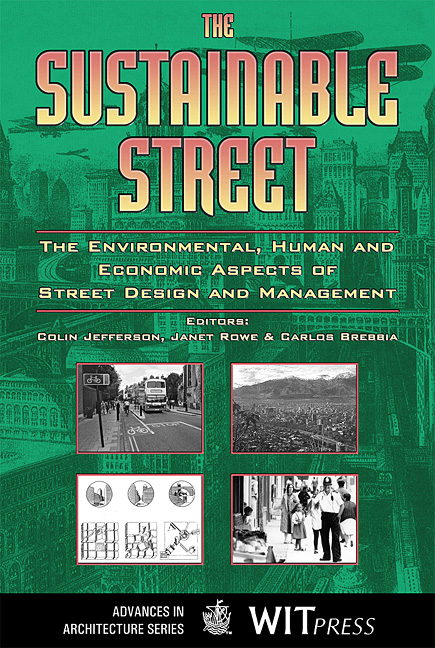 The Sustainable Street
the Environmental, Human and Economic Aspects of Street Design and Management
Edited By: C. JEFFERSON, University of the West of England, United Kingdom and J. ROWE, University of West of England, United Kingdom and C.A. Brebbia, Wessex Institute of Technology, United Kingdom
$248.00 (free shipping)
"... there is much to recommend it"
CANADIAN JOURNAL OF URBAN RESEARCH
Cities have long been recognised as the engines of cultural and social change, as well as the drivers of the international economy, yet the many, usually inter-related, problems of urban living persist. Among these are air and noise pollution, problems of equality of access for opportunities in work, education and leisure, and the maintenance and enhancement of cultural cohesion and the control of crime. The many problems of the urban environment, as well as the roles and advantages, may be seen in microcosm in the urban street.

The concept of the street as the unit of the urban environment, and as a useful scale for the delivery of urban development towards sustainability, lies at the heart of this book. Bringing together individual experiences from different countries, it informs the debate not only as to what is desirable, but also how, practically, we should move forward. The chapters included will be of interest to many professionals and practitioners including architects, economists, engineers, environmentalists and planners.