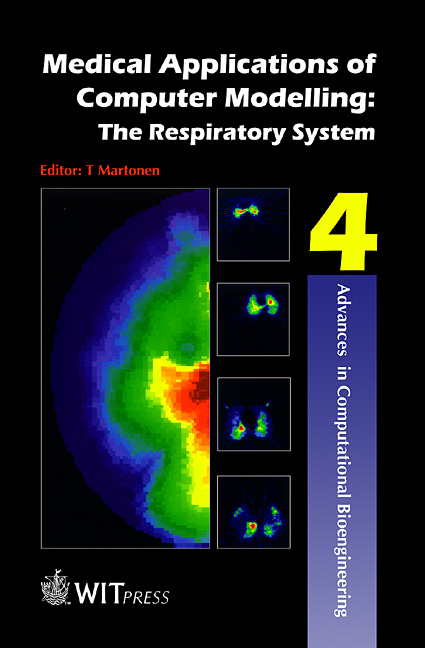 Medical Applications of Computer Modelling: the Respiratory System
The Respiratory System
Edited By: T.B. MARTONEN, US Environmental Protection Agency, USA
$310.00 (free shipping)
Advances in Computational Bioengineering
"...comprehensive and well written....should be mandatory reading for researchers studying flow dynamics in the respiratory system."
RESPIRATORY CARE

"...well written...The opinion of this reviewer is that the reader is provided with a good introduction to some simple mathematical models of the respiratory system and some simple techniques that are used to solve the resulting equations. This volume would therefore be of interest to a researcher with substantial clinical or physiological training, but limited bioengineering experience, who wishes to know more about mathematical and computer modeling of the respiratory system... This book would [also] be of interest to both students and lecturers on undergraduate engineering courses writing...a [specialist] dissertation..."
PHYSIOLOGICAL MEASUREMENT

"…covers most of the important topics, and describes how the current use of computer modeling advances our knowledge of aerosolized drug delivery."
JOURNAL OF AEROSOL MEDICINE
Designed for use in both academic and research environments, this is the second of two volumes which address applications of computer modelling and fluid dynamics to biological systems. Emphasis is placed on demonstrating the important roles that mathemtical theory and computer technology can play in the medical arena, and general scientific concepts are integrated with specific technical issues throughout.
A companion volume, Medical Applications of Computer Modelling: Cardiovascular and Ocular Systems is also available from WIT Press.