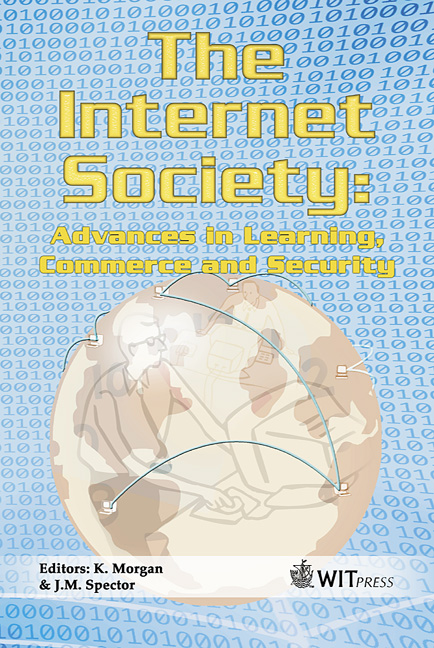 The Internet Society: Advances in Learning, Commerce and Security
Advances in Learning, Commerce and Security
Edited By: K. MORGAN, University of Bergen, Norway and J.M. SPECTOR, Syracuse University, USA
$290.00 (free shipping)
Advances in Information and Communication Technologies
WIT Transactions on Information and Communication Technologies
This book gives an overview of some of the most important aspects of human experience that have been impacted by Information and Communications Technology (ICT), namely education, commerce and security.

ICT has dramatically altered the ways in which we view education and commerce, providing not only new academic sub-disciplines but also substantial changes to society as a whole. Included within this volume are contributions that document these changes, the reasons for them and how they will develop in the future. Leading authorities from around the world describe their research in papers that cover the full range of theoretical and practical implications for this new technology. These range from strategic issues in deciding how a new technology can aid a nation's educational, intellectual and commercial development, to extremely detailed coverage of the very latest developments in security for mobile devices.

Providing in depth information about the latest scientific progress in the field this book also shows how these new technologies and techniques directly impact our lives and our common futures.

The contributions included in The Internet Society: Advances in Learning, Commerce and Security were first presented at New Learning 2004 , Data Security 2004 and e-Business 2004 .