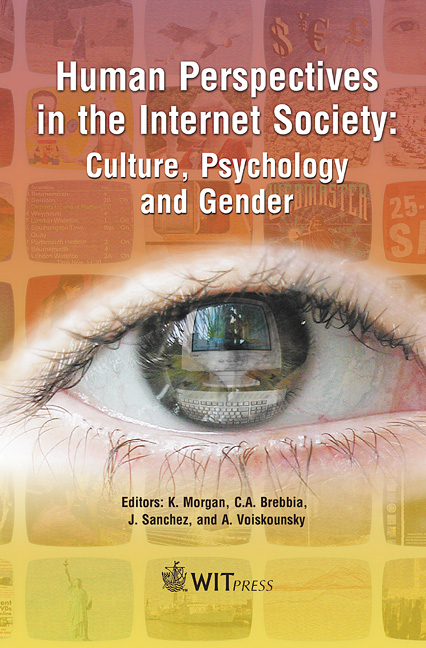 Human Perspectives in the Internet Society: Culture, Psychology and Gender
Edited By: K. MORGAN, University of Bergen, Norway, C.A. Brebbia, Wessex Institute of Technology, UK, J. SANCHEZ, Univeristy of Cadiz, Spain and A. VOISKOUNSKY, Moscow State University, Russia
$498.00 (free shipping)
Advances in Information and Communication Technologies
WIT Transactions on Information and Communication Technologies
Over the past 30 years Information and Communications Technology (ICT) has permeated all aspects of modern life, its impact being felt throughout industry, commerce, education, entertainment and society. Much literature and effort has been devoted to documenting and understanding the technical aspects of the resulting developments. In contrast less attention has been given to the human consequences.

Redressing some of this imbalance, this book brings together leading authorities from around the world to present the current state of research and understanding into the social, psychological and cultural impact of the new technologies. A valuable summary, it will be of interest both to newcomers to this subject and to established authorities.

Over 50 contributions, covering a wide range of perspectives, are included. These are divided under the following headings: Understanding Online Behaviour; Personality and Computer Attitudes; Cyber Interactions; New Interaction Methods; Applied Psychological Uses for Computers; Influencing Gender Roles; Gender and Computer Behaviour; Gender Stereotypes; Cyber Society Norms and Values; Threats and Challenges to Diversity; Advertising with an Intercultural Perspective; New Learning Technologies and Paradigms; and E-Business.

The papers featured in Human Perspectives in the Internet Society: Culture, Psychology and Gender were originally presented at the First International Conferences on Gender and IT , Psychology and IT , and Culture and Impact .