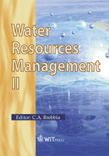 Water Resources Management II
Edited By: C.A. Brebbia, Wessex Institute of Technology, UK
$452.00 (free shipping)
Progress in Water Resources
WIT Transactions on Ecology and the Environment
Reviewing some of the most recent developments associated with the management of surface and sub-surface water resources, this book contains papers presented at the Second International Conference on Water Resources Management.

The contributions come from specialists involved in research and development activities across a wide range of water resources and management topics. Individual papers are divided under the headings: Quality and Pollution Control; Water Management and Planning; River Basin Management; Irrigation Problems; Residential Water Management; Waste Water Treatment and Management; Decision Support Systems; Hydrological Modelling; Reservoirs and Lakes; and Flood Risk.

A series of invited contributions by well-known researchers are also featured.