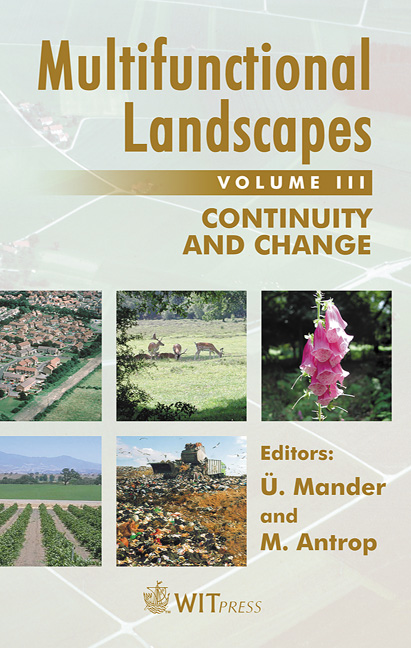 Multifunctional Landscapes Volume III
Continuity and Change
Edited By: U. MANDER, University of Tartu, Estonia and M. ANTROP, University of Ghent, Belgium
$262.00 (free shipping)
Encouraging interdisciplinary discussions concentrating on a conscious and precise use of related concepts, and emphasizing the practical application of landscape sciences and management, Multifunctional Landscapes: Volumes I, II and III contain papers originally presented at the conference on this topic held in Roskilde, Denmark in 2000. These have since been peer-reviewed and revised for publication.

Highlighting continuity and change, this volume contains an overview of case studies carried out throughout Europe. The common focus is on the interaction between land use practices and the biotic and abiotic environment in history, and most of the chapters therefore deal with cultural landscapes. Several suggestions for the assessment of changes and stability using criteria and indicators are given.

Contributions featured include: Continuity and Grassland Management in a Multifunctional Landscape in Middle Jutland (Denmark); Biodiversity and Land Use History of the Alpine Riparian Landscapes (the Example of the Isère River Valley, France); Changes in Nitrogen Input via Subsurface Drainage Systems into the Mulde Catchment (Germany) - A Mesoscale Approach; Ecological Networks in Estonia - From Classical Roots to Current Applications.

Multifunctional Landscapes: Volume I (ISBN: 1-85312-930-5) stresses the importance of establishing a new framework for understanding and interpreting landscapes and their various functions and values in space and time. Volume II (ISBN: 1-85312-934-8) focuses on the discussion and research recommendations relating to three different aspects of future landscape research concerning planning and management.