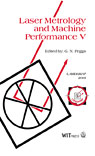 This book is currently not available from WITpress.
Notify when available
Laser Metrology & Machine Performance V
Edited By: G. N. PEGGS, National Physical Laboratory, United Kingdom
$342.00 (free shipping)
WIT Transactions on Engineering Sciences
With increasing emphasis now being placed on competitiveness, considerable improvements in the manufacturing process can be made through combining technical approaches. Presenting the latest technology and techniques, this book features the proceedings of the Fifth International Conference on Laser Metrology, CMM and Machine Tool Performance (LAMDAMAP).

Collaboration between researchers, designers, machine builders and end users is highlighted, while work on the enhancement of machine performance together with the latest developments in the fields of calibration, certification and standardisation is presented.

The contributions cover a wealth of topics including:

• Laser calibration and metrology

• Machine tool calibration and artefacts

• Machine condition monitoring and intelligent instrumentation

• Quality in machine tool and coordinate measuring machine performance

• International specification standards

• Gear and transmission metrology

• Numerical simulation and algorithm research for the above topics.