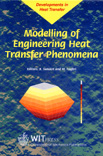 Modelling of Engineering Heat Transfer Phenomena
Edited By: B. Sundén, Lund Institute of Technology, Sweden and M. Faghri, The University of Rhode Island, USA
$298.00 (free shipping)
Developments in Heat Transfer
"Readers seeking a quick review of the subject areas covered will find the book very useful not only in obtaining a rapid overview of the state-of-the-art but also in locating the most relevant key references. Research students will find this a particularly useful reference.... a good compilation of well written highly readable articles. It is recommended warmly to readers interested in the subject area."

DRYING TECHNOLOGY
This volume is concerned with methods and procedures for a variety of engineering heat transfer phenomena. It presents information on recent progress and the current status of principles, together with limitations and opportunities in modelling. Relevant results are also provided.

All contributions featured were invited and reviewed and are consequently of an extremely high standard.