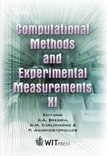 Computational Methods and Experimental Measurements XI
Edited By: C.A. Brebbia, Wessex Institute of Technology, UK, G.M. CARLOMAGNO, University of Naples, Italy and P. ANAGNOSTOPOULOS, University of Thessaloniki, Greece
$669.00 (free shipping)
Computational Engineering
WIT Transactions on Modelling and Simulation
Containing edited versions of most of the papers presented at the Eleventh International Conference on Computational Methods and Experimental Measurements (CMEM), this book reviews the latest work on these two approaches, and the interaction between them.

As computer models become ever more successful and realistic, they require detailed data in order to develop better experiments. Scientists working on laboratory and field experiments now produce challenging results that sometimes require different interpretation, leading to the reformulation of analytical tools used in established computer codes.

This book features over 70 papers providing invaluable information for both scientists specialising in measurement techniques and researchers developing computer codes. The following sections are included: Computational and Analytical Methods; Computer Interaction and Control of Experiments; Damage Mechanics; Data Acquisition and Processing; Dynamics and Vibrations; Electrical and Electromagnetic Applications; Fluid Mechanics; Structural and Stress Analysis; and Thermal Processes.