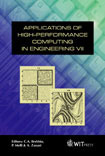 Applications of High-Performance Computing in Engineering VII
Edited By: C.A. Brebbia, Wessex Institute of Technology, Southampton, United Kingdom, P. MELLI, IBM Italia S.P.A., Italy, A. ZANASI, TEMIS Text Mining Solutions SA, Modena, Italy
$241.00 (free shipping)
Advances in High Performance Computing
WIT Transactions on Information and Communication Technologies
Fueled by continuous advances in hardware and software, High Performance Computing has evolved into an extremely powerful tool for the solution of complex simulation problems in both academia and industry.

This book contains invited and refereed papers from the Seventh International Conference on Applications of High Performance Computing in Engineering, the latest in a successful series which provides a forum for scientists from many fields and countries to exchange ideas and review new developments.

The main topics highlighted are: Parallel Computing; Parallel Finite and Boundary Elements; Applications in Fluid Flow; Further Applications in Computational Science; Performance and Benchmarking; and Distributed Computer Systems and Networking.