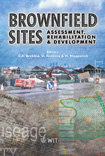 Brownfield Sites
Assessment, Rehabilitation and Development
Edited By: C.A. Brebbia, Wessex Institute of Technology, Southampton, United Kingdom, D. ALMORZA, University of Cadiz, Spain, H. KLAPPERICH, Technical University of Freiberg, Germany
$489.00 (free shipping)
WIT Transactions on Ecology and the Environment
An interdisciplinary approach is essential for the successful regeneration of brownfield sites. Such development embraces a wide range of issues including cleanup and economic redevelopment, legislation and the prominent roles of ownership and investment, the latter points being complicated by varying international approaches. Strong community participation is also involved.

The ecological advantages may be obvious to all, but the benefits of reintegration of land into the economic cycle of the community need to be promoted strongly to take effect, as do the economic and social dimensions for the reinvigoration of cities.

This book features papers presented at Brownfields 2002, the First International Conference on Assessment, Rehabilitation and Development of Brownfield Sites. Over 50 contributions on a broad range of engineering, science and land issues relating to brownfields are included. These are divided under the following headings: Case Studies; Community and Public Involvement; Environmental Assessment; Development Issues; Financial and Insurance Aspects; Risk Management; Multimedia Modelling and Assessment; Lessons from the Field; and Cleanup Methodologies.