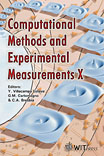 Computational Methods and Experimental Measurements X
Edited By: Y. VILLACAMPA, Universidad de Alicante, Spain and G.M. CARLOMAGNO, University of Naples di Napoli, Italy and C.A. Brebbia, Wessex Institute of Technology, United Kingdom
$896.00 (free shipping)
Computational Engineering
WIT Transactions on Modelling and Simulation
Experimental measurements are themselves conditioned to the requirements of computational models. It is therefore important that scientists working on experiments communicate with researchers developing computer codes, as well as those carrying out measurements on prototypes. The orderly and progressive concurrent development of all these fields is essential for the progress of engineering sciences.

This book contains edited versions of most of the papers presented at the Tenth International Conference on Computational Methods and Experimental Measurements (CMEM), a highly successful series providing a unique forum for the review of the latest work in this field.

Nearly 100 contributions from scientists working throughout the world are included. These are divided under the following headings: Fluid Dynamics; Structural and Stress Analysis; Dynamics and Vibrations; Heat Transfer; Material Characterisation; Data Acquisition and Processing; Computer Interaction and Control of Experiments; Electrical and Electromagnetic Applications; Computational and Analytical Methods.