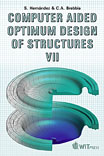 Computer Aided Optimum Design of Structures VII
Edited By: S. Hernández, University of La Coruna, Spain and C.A. Brebbia, Wessex Institute of Technology, UK
$398.00 (free shipping)
WIT Transactions on The Built Environment
Demonstrating the high level of maturity reached in design optimisation methodologies, this book contains most of the papers presented at the seventh international conference on Computer Aided Optimum Design of Structures.

Contributions from specialists working throughout the world at universities, research centres and in industry are included, and these cover state-of-the-art advances in research together with a broad variety of practical applications in engineering practice.

An important reference of direct relevance to all scientists and engineers interested in this area, the book features over 40 papers divided under the following headings: Applications in Mechanical Engineering; Applications in Structural Engineering; Nonlinear Structural Behaviour; Shape and Topology Optimisation; Computational Methods; Optimal Control; Optimisation of Composites; Computer Packages.