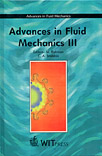 This book is currently not available from WITpress.
Notify when available
Advances in Fluid Mechanics III
Edited By: M. Rahman, DalTech, Dalhousie University, Canada and C.A. Brebbia, Wessex Institute of Technology, UK
$540.00 (free shipping)
Advances in Fluid Mechanics
WIT Transactions on Engineering Sciences
This book contains the papers presented at the Third International Conference on Advances in Fluid Mechanics, held in Montreal, Canada, May 24-26, 2000. The papers cover developments in fluid research from basic mathematical formulations of fluid mechanics to computer modeling of fluid dynamic applications. Topics covered include: Experimental versus Computational Methods; Numerical Methods in Fluid Mechanics; Boundary Element Methods for Fluids; Inverse Fluid Mechanics Problems; Fluid-Structure Interaction; Heat and Mass Transfer; Bio-Fluid Mechanics; Geophysical Fluid Dynamics; Environmental Fluid Mechanics; Hydrodynamics; Aerodynamics; River, Lake and Estuary Dynamics; Coastal Sea Modelling; Nonlinear Ocean Waves; Air-Sea Coupling Dynamics; Wave Propagation and Scattering; Non-Newtonian Fluids; and Constitutive Relationships.