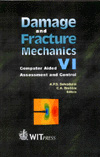 Damage and Fracture Mechanics VI
Computer Aided Assessment and Control
Edited By: A.P.S. SELVADURAI, McGill University, Canada H3a 2k6 and C.A. Brebbia, Wessex Institute of Technology, United Kingdom
$545.00 (free shipping)
WIT Transactions on Engineering Sciences
"This book comprises a well balanced set of topics of interest to specialists in damage and fracture mechanics."

REVISTA DE METALURGIA

This book contains a balanced set of topics of interest both to fracture and damage mechanics specialists. These include fracture mechanics and fracture criteria, damage mechanics, composite materials, crack propagation and control, dynamic fracture, fatigue, industrial applications, microstructural and micromechanical modelling, creep and high temperature, advanced analysis methods, metallic and non-metallic materials, and environmental effects.

Identifying new directions in both research areas, the volume features over 55 state-of-the-art contributions from scientists working around the world. The papers included were originally presented at the Sixth International Conference on Damage and Fracture Mechanics.