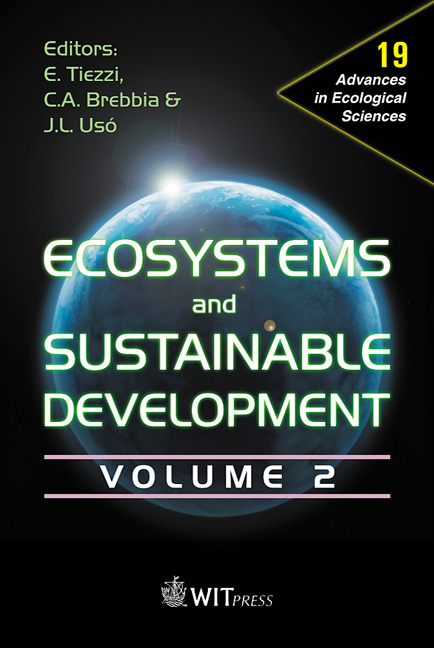 Ecosystems and Sustainable Development IV - Volume 2
Edited By: E. TIEZZI, University of Siena, Italy, C.A. Brebbia, Wessex Institute of Technology, UK and J-L. USO, Universitat Jaume I, Spain
$498.00 (free shipping)
Advances in Ecological Sciences
WIT Transactions on Ecology and the Environment
The aim of the Fourth International Conference on Ecosystems and Sustainable Development was to integrate thermodynamics, ecology and economics into 'ecodynamics', an evolutionary approach emphasising that biodiversity is at the core of sustainability.

Together with its companion volume (ISBN: 978-1-85312-974-2) , this book contains almost 120 of the contributions presented at this influential meeting.

Topics covered include: Ecosystems Modelling; Conservation and Management of Endangered Areas; Environmental Management; Sustainability Indicators and Certification; Sustainable Chemistry and Waste Management; Sustainable Development Issues; Biodiversity; Economic Issues; Energy Generation and Conservation; Landscapes; Mathematical and System Modelling; Recovery of Damaged Areas; Soil and Agricultural Issues; Water Resources; Forestation; and Air Pollution and the Greenhouse Effect.

This volume also features Sustainability Studies in the Province of Siena, a special section on the SPIn-Eco Project, an ambitious research program to assess environmental conditions using a wide set of sustainability indicators.