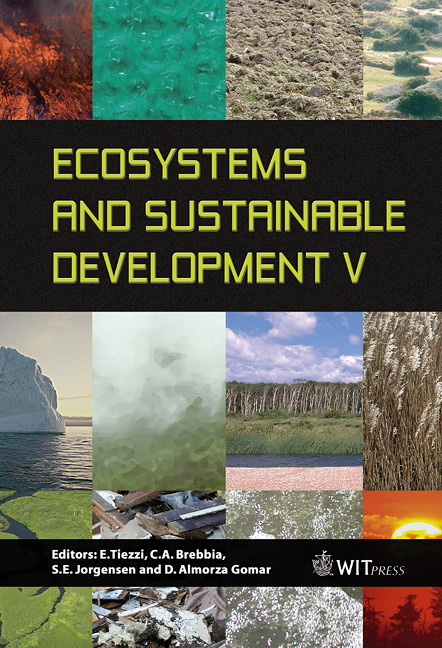 Ecosystems and Sustainable Development V
Edited By: E. Tiezzi, University of Siena, Italy, C.A. Brebbia, Wessex Institute of Technology, UK, S. Jorgensen, The University of Pharmaceutical Sciences, Denmark and D. Almorza Gomar, The University of Cadiz, Spain
$669.00 (free shipping)
WIT Transactions on Ecology and the Environment
Beyond the specific dimension of the individual, learning is a primary characteristic of life. Shifting our attention to local systems we can consider ecosystems and traditional communities as learning 'minds', according with Bateson's thought. We call environmental wisdom the explicit knowledge that emerges from long periods of co-evolution of people and nature in local systems, cast in the same lot. Environmental wisdom rises both from trial-and-error and from more subtle kinds of knowledge, involving aesthetic and intuition. It sediments as tradition or religion and deeply contribute to landscapes creation, keeping ecosystems and humans alive together.

It is our belief, that in order to survive, local communities should re-connect themselves with their biological basis. As a first option we need to pay new attention to our boundaries: not to avoid contacts, exchanges, cross-fertilization with other people and other lands, but to reduce the impact of globalization and to retain cultural biodiversity.

Only a network of self-centred communicating communities can provide a sufficient basis of diversity to achieve long-term sustainability. We believe we are living a moment of general crisis, a re-learning transition period that is inherently uncertain, and therefore we have to enlarge our cultural and technological basis, avoiding homogenization as the primary source of fragility.

This book contains the proceedings from the fifth International Conference on Ecosystems and Sustainable Development . With over 70 contributions divided into sections such as: Biodiversity; Conservation and management of ecological areas; Environmental and ecological policies; Natural resources management; Recovery of damaged areas and Remote sensing.