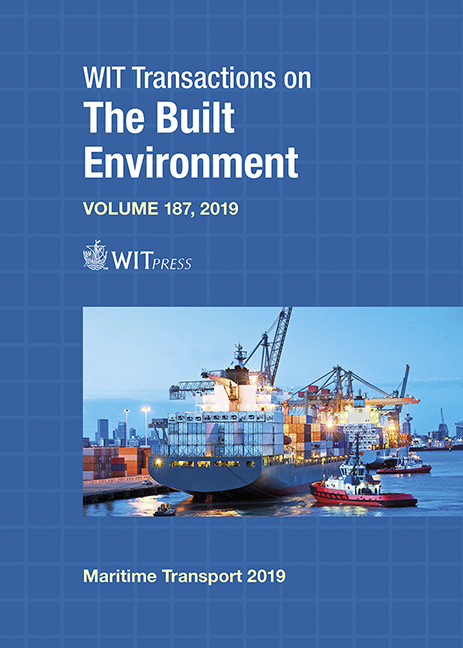 This book is a
forthcoming
release and is not yet available
Notify when available
Maritime Transport
Edited By: G. Passerini, Marche Polytechnic University, ITALY; S. Ricci, University of Rome "La Sapienza", ITALY
$217.00 (free shipping)
WIT Transactions on The Built Environment
Maritime transport faces multiple challenges, therefore it requires an interdisciplinary approach in order to respond efficiently to the interaction between diverse agents. This book presents interdisciplinary research, as well as operational experiences, which contribute towards the development of the field.
The substantial growth of maritime shipping has resulted in large quantities of good and products being transported around the world, creating a demand for innovative solutions for infrastructure and fleets. A further increase in the scale and the size of container carriers and passenger cruisers also requires special facilities. These developments have presented a challenge for different types of technologies, as well as operational systems.
Maritime transportation ought to be integrated with other services such as railways, roadways and airports and, in some cases, river and canal traffic in order to achieve maximum efficiency. It also needs to respond rapidly to the economic and political circumstances in different parts of the world. These challenges often require extreme performances in terms of capacity, speed of delivery, energy consumption, environmental sustainability, as well as social and economic aspects.
A range of topics are covered, including: Navigation and ship operations, Ports and their operation, Port infrastructure, Safety and security, Emergency response, Pollution and the protection of the marine environment, Marine geodesy and cartography, Marine applications of geomatics and GIS, Satellite navigation, Routes planning and monitoring, Risk management, Naval technology, Freight handling, Multimode transport, Planning and management of ship traffic, Control and command systems, Human factors in navigation, Systems modelling and simulation, Management of coastal regions, Bulk shipping, Cruise shipping, Ro-ro and motorways of the sea, Meteorology and oceanography issues, Standardisation of maritime technology, Maritime education and training, Global socio-economic implications of maritime activities, Maritime policy and governance, International standards and regulations, Economic efforts of maritime transport, RAMS in maritime transport components.