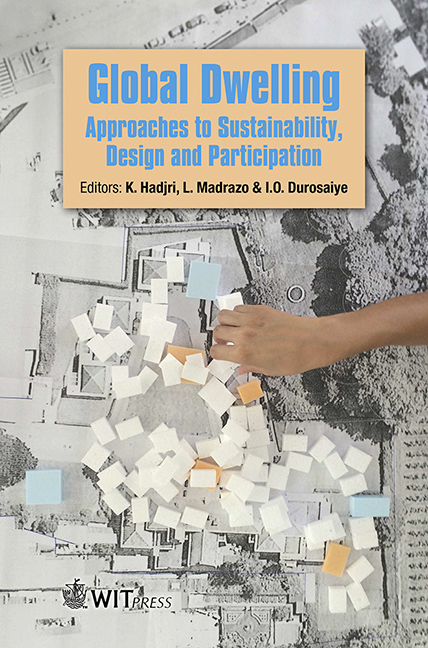 This book is a
forthcoming
release and is not yet available
Notify when available
Global Dwelling
Approaches to sustainability, design and participation
Edited By: K Hadjri, University of Central Lancashire, UK; L Madrazo, Ramon Llull University, Spain
$215.00 (free shipping)
WIT Transactions on State-of-the-art in Science and Engineering
The proceedings of the Third OIKONET Conference are contained in this book. OIKONET is a European project co-funded by the Executive Agency of Education, Audiovisual and Culture (EACEA) with the purpose of studying contemporary housing from a multidisciplinary and global perspective by encompassing the multiple dimensions which condition the forms of dwelling in today's societies: architectural, urban, environmental, economic, cultural and social.
Following on from the first two OIKONET conferences, held respectively in Barcelona, Spain in 2014 and Bratislava, Slovakia in 2015, the third conference was held in Manchester, UK in 2016. The papers presented at this conference, and contained in this volume, bring together the work of schools of architecture and planning, research groups, professional organizations and local administrations.
Providing a valuable resource for students, lecturers, researchers and others with an interest in architecture, this book includes the main themes of Sustainability of housing environments, Innovation in housing design and planning and Participation in housing design and construction. Topics covered across these main themes include: Environmental (energy, air quality, health and wellbeing, resilience, waste minimisation); Social (inequality, welfare, housing conditions and transformations, gentrification); Economic (urban dynamics, affordable housing, social housing); Compact cities; Large scale housing renovation; Mobility and accessibility; Domestic space design and organisation; Smart homes; Low-cost housing; Adaptable housing; Teaching housing innovation; Co-design; Co-housing; Resettlement; Communication tools and strategies; Integrative design approaches; Urban management; Participatory design studios; Live projects.